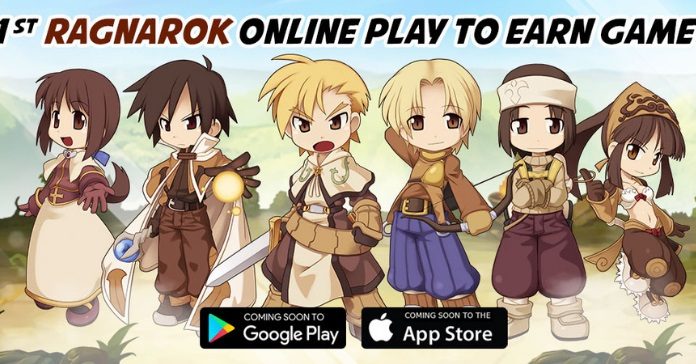 "Ragnarok Labyrinth NFT" Gravity's first play-to-earn game begins its pre-registration phase. Operated by their Indonesian brand, Gravity Game Link (GGL), the game is set to launch in the Southeast Asian Market soon.
About "Ragnarok Labyrinth NFT"
"Ragnarok Labyrinth NFT" is the first official P2E Ragnarok IP with NFT elements. It is a mobile game with the Idle MMORPG genre that features Labyrinth Dungeons in varying difficulty.  You can play with your friends or explore the dungeons alone.
The game offers a wide variety of interactive modes, including:
Real-Time PVP
Party System
Guild System
MVP Boss Fights
Auction where players can buy, sell, and trade in-game items
Integrated with blockchain technology, "Ragnarok Labyrinth NFT" lets you earn ONBUFF Coins (ONIT). ONIT is a cryptocurrency that operates on the Ethereum platform. These can be traded in a Decentralized Finance (DeFi) exchange for real currency.
"Ragnarok Labyrinth NFT" Job Classes
The game will feature "Ragnarok Online's" traditional job classes but with more cute designs to fit the game's art style.
Swordsman – Strong-willed fighters seeking to lead with their swords and shields. They can advance their class to "Knight" and "Lord Knight."
Mage – They wield the power of the elements. Through knowledge and intelligence, they can easily turn the tide in the battlefield. They can advance to "Wizard" and "High Wizard."
Archer – They wield a bow to hunt down monsters with their long-distance combat expertise. They can advance to "Hunter" and "Sniper."
Merchant – The economic experts of "Ragnarok Online" and are always on the lookout for profit. They can advance to "Blacksmith" and "Whitesmith."
Thief – Masters of deceit and stealth who excel in landing fast attacks. They can advance to "Assassin" and "Assassin's Cross."
Acolyte – They live their lives serving the Gods. They devote themselves to helping others. They can advance to "Priest" and "High Priest."
Pre-Registration And Airdrop Event
Players can pre-register now and get awesome rewards when the game launches. The more people sign up, the more rewards you get.
An Airdrop event is available for residents of Singapore and Malaysia starting on March 9 until April 4, 2022. Register a UPbit account through the game's official website and get free ONBUFF Coins (ONIT). You need to complete the level 2 verification on your account to receive the coins. This event is on a first come first serve basis.
"Ragnarok Labyrinth NFT" is set to launch in the second quarter of 2022 through ONBUFF's blockchain platform for Android and iOS devices. Visit their official website for more information.